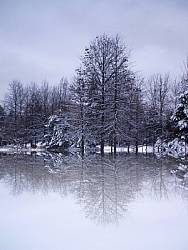 Yea! Snow on Thanksgiving! Hey…wait a minute…what was I thinking? Gone are the days of riding in the back seat and watching the snow fall, all the time contemplating where to build the first snowman. Now I'm in the driver's seat, waiting in line at the traffic light, watching the Police Officer slide unwillingly in the slush from gusting wind, and the whole time thinking "God Bless those Turkey Trotters!" (not to mention the poor Officer standing for "who knows how long" in the freezing wind directing traffic).
It would have been "Thanksgiving as usual" if I hadn't been caught in the traffic that is stopped to let the runners go by. Time that let me look around and see that not everyone waited only on the Thanksgiving Day feast, the traditional football game, or even the building of the first snowman. Some looked forward to running, whether for a cause or just for fun, and surely some looked forward to playing in that football game. And then there was me. Thinking "Yahoo!", and "I wish I had my camera….".
There were a lot of pictures that could have been yesterday. From the fresh-fallen snow on the evergreens and along the countryside, to the Officer in town directing traffic, and yes, even the dirty slush on a large truck's wheel that formed spikes resembling a bizarre snowflake. All these scenes, though they made me wish I had my camera, reminded me of how much I have to be thankful for.
Not just for the warm car to sit in, and the family to dine with, but for the beauty of each snowflake that fell, and the splendor and the majesty of all the Lord has created.
©BarbiDarbey – Original Post Date: November 25, 2005 – Share Freely – Do Not Sell